BOROUGH OFFICE HOURS
MONDAY - FRIDAY
8:30 a.m. - 4:30 p.m.
OFFICIAL NOTICE
BOROUGH OF WHITE OAK
ALLEGHENY COUNTY, PA
MEETING SCHEDULE
Notice is hereby given of the various Council Workshops/Caucuses, Executive Sessions and Regular Meetings as well as the Planning Commission, Recreation Board and Zoning Hearing Board. All meetings will be held at the White Oak Borough Municipal Building, 2280 Lincoln Way, White Oak, PA 15131
White Oak Borough Council
Council Workshops/Caucuses, Executive Sessions will be held the first Wednesday and the third Monday of each month at 6:45 p.m. The Regular Meeting will be held the third Monday of each month at 8:00 p.m. All Workshops/Caucuses and Regular Meetings are open to the public. Council may take official action at any meeting which is opened to the public. Executive Sessions are closed to the public.
White Oak Recreation Board
The Recreation Board meeting will be held the second Thursday of each month at 7:00 p.m.
White Oak Borough Planning Commission*
The Planning Commission meeting will be held the first Thursday of each month at 8:00 p.m. This meeting is opened to the public. (If necessary)
White Oak Borough Zoning Hearing Board*
The Zoning Hearing Board meeting will be held the fourth Thursday of each month. Workshops/Caucuses, which are closed to the public, will be held at 7:00 p.m., with the public meeting being held at 7:30 pm. (If necessary)
*Contact the Code Department at 412 672-9727 Ext. 231 to see if there are any items on the agenda for the Planning Commission and Zoning Hearing Board, as meetings will only be held if there are items on the agenda.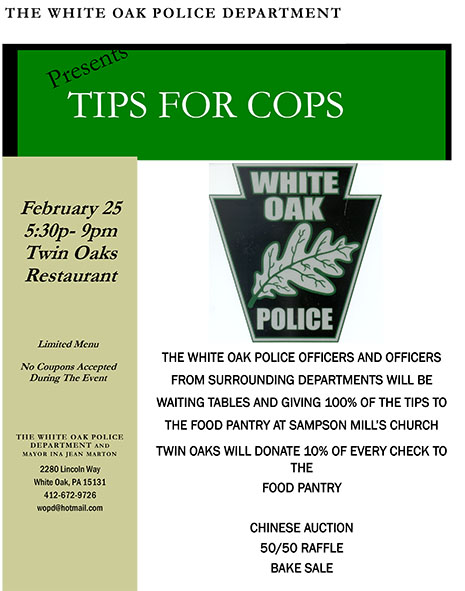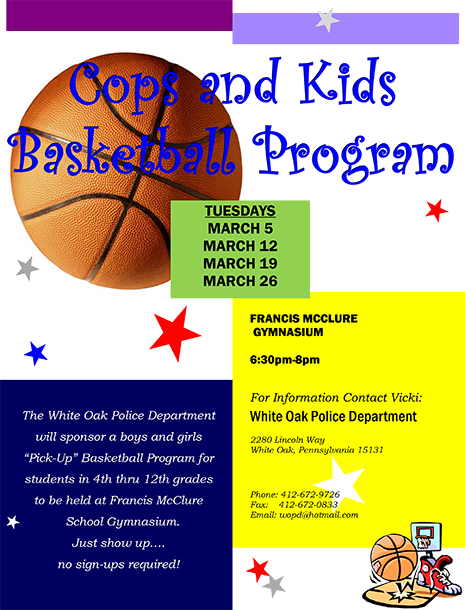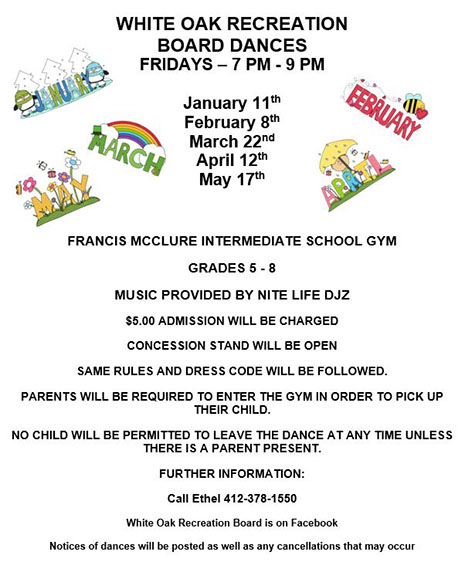 SCHOOL CROSSING GUARD
Currently hiring School Crossing Guard for the McKeesport Area School District 2018/2019 school year- for a school located in White Oak, PA will be seeking one part-time school crossing guard.
Part-time School Crossing Guard must be able to coordinate the movement of traffic while providing safety to students exiting vehicles and entering the school premises. This position has morning hours (before school begins) and afternoon hours (school dismissal). You will be required to work outdoors during all weather conditions. Must possess good communications skills as well being a self-motivated individual.
Minimum Requirements:
Must possess physical requirements of good sight, hearing and mobility.
Have knowledge of basic traffic laws, signage and pavement markings.
Work professionally and effectively with the public
Be able to provide information to the police regarding motorist violations.
Able to pass a yearly medical exam.
Successfully complete PA Child Abuse History and PA Criminal Background checks.
Individuals 18 years and older are encouraged to send a letter of intrest to the White Oak Police Department, 2280 Lincoln Way, White Oak, PA 15131. EOE
Please include the following information:
First and Last Name
City, State and Zip
Phone Number (with area code)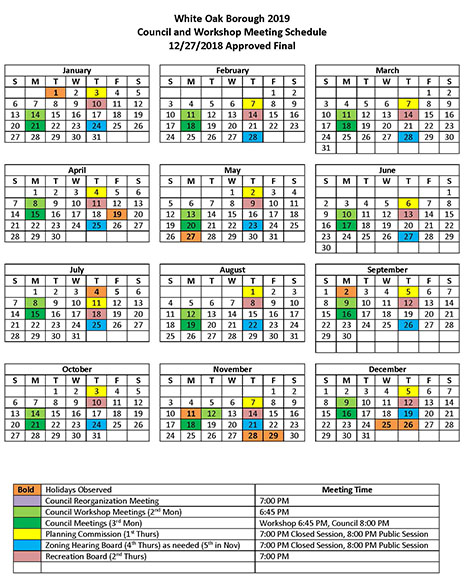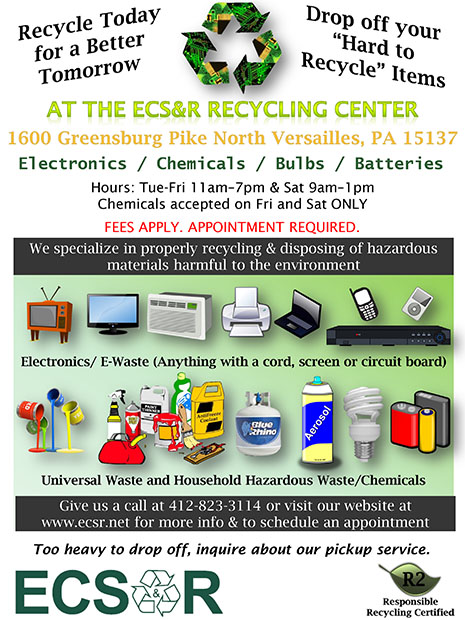 For more information and to schedule and appointment visit our website at www.ecsr.net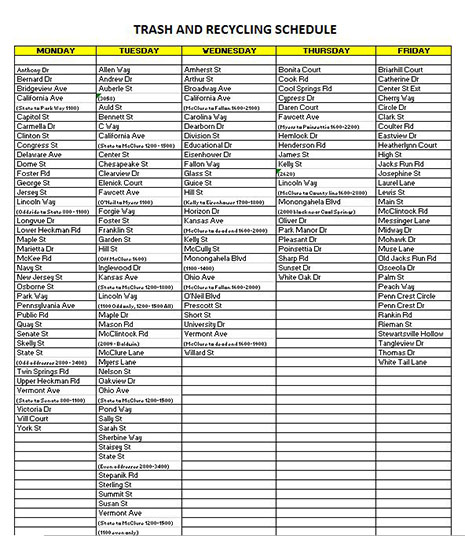 Recycling Information
MATERIAL

Metals:

Aluminum, steel and bi-metal food and beverage containers
Glass - Empty and Rinse

Clear, brown and green glass and beverage containers - Empty and Rinse
Do not include Ceramics, Pyrex, mirrors, crystal, milk glass,
Dishes, light bulbs, TV tubes, window and auto glass

Newspaper and cardboard

Plastics:
Polyethylene terephthalate - Fizzy drink
bottles and frozen ready meal packages.
High-density polyethylene - Milk and
washing-up liquid bottles.
Polyvinyl chloride - Food trays, cling film,
bottles for squash, mineral water and
shampoo.
Low density polyethylene - Carrier bags and
bin liners
Polypropylene - Margarine tubs,
microwaveable meal trays.
Polystyrene - Yoghurt pots, foam meat or
fish trays, hamburger boxes and egg cartons,
vending cups, plastic cutlery, protective
packaging for electronic goods and toys.
Any other plastics that do not fall into any
of the above categories. For example
melamine, often used in plastic plates and
cups.
2018 Recycling Calendar
White Oak Borough Reorganization Meeting
and Swearing in Ceremony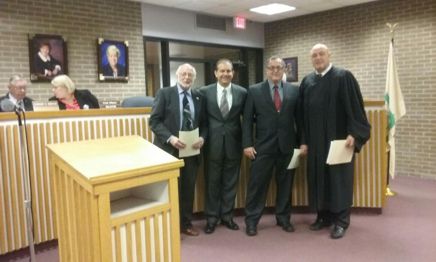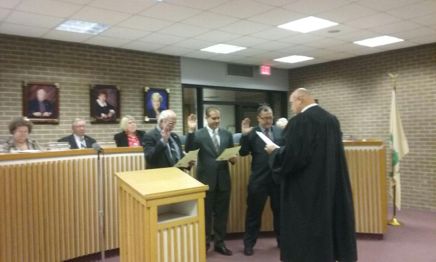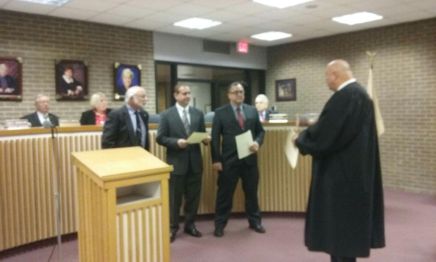 PennDOT's Yellow Dot Program
Pamphlets are available at: White Oak Police Department, 2280 Lincoln Way, White Oak, PA.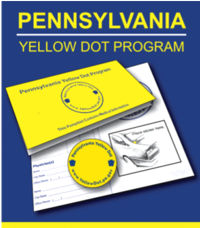 Pennsylvania's Yellow Dot Program was created to assist citizens in the "golden hour" of emergency care following a traffic accident when they may not be able to communicate their needs themselves. Placing a yellow dot in your vehicles rear window alerts first responders to check your glove compartment for vital information to ensure you receive the medical attention you need.
The program is a cooperative effort among the Pennsylvania Departments of Transportation, Health and Aging, the Pennsylvania State Police, the Pennsylvania Turnpike Commission and First Responders and local law enforcement.
How does it work?
Participants complete a personal information form, which includes the participant's name, contact information, emergency contact information, medical history and medications, allergies and the participant's doctors names. A photo - showing only the participants head and shoulders - is then taped to the front of the completed information sheet.
The yellow dot decal provided in the program kit is placed in the lower left corner of the participant's vehicle's rear windshield. The decal should be no higher than 3 inches from the bottom of the windshield. This decal alerts first responders that vital information can be found in the vehicle.
Place the completed information sheet, with the attached picture, into the Yellow Dot folder, and then place the folder into the vehicle's glove box.
PennDOT website www.YellowDot.pa.gov
White Oak Borough is on Facebook!

White Oak Borough now has an official Facebook Page! If you are a Facebook user please
LIKE
our page so you can get notifications of the events, news and photo posts from White Oak Borough. Even if you don't use Facebook you can still view the page by going to:
www.facebook.com/WhiteOakBoroughPA
Habitat for Humanity of Greater Pittsburgh
Weatherization Program

White Oak Borough Cell Phone Collection
As part of our Domestic Violence Awareness Month observance, White Oak Borough has partnered with the 911 Cell Phone Bank to collect used cell phones for victims of domestic abuse in our area. Over 2 million women each year become victims of domestic violence. Many of these violent incidents can be prevented with a simple tool we all take for granted, the cell phone. Please consider donating you used cell phone. Your donation could be the critical link between law enforcement and someone in trouble. Phones will be collected at the White Oak Borough building.
Adopt-A-Block Program
Have you noticed some trash along the block you live on? Want to help and clean it up? Well here is your chance!! Adopt-A-Block(s).
Give a helping hand to keep the block(s) in White Oak BEAUTIFUL. An individual, family or group can adopt up to how many blocks they are willing to care for. Materials (bags, gloves and safety vests) will be provided for the days you will be cleaning your block(s).
How to get started?
Download and fill out the agreement and release form
. Return the form to Michelle at the White Oak Borough office. Start at any time to clean up the block(s) you choose. We ask that you clean your "adopted" block(s) at least once a quarter.
LET'S KEEP WHITE OAK CLEAN TOGETHER!
WHITE OAK SHELTER TEAM
On-Going Opportunity to Volunteer
We prepare for disasters by using resources in the community.
Community Response by:
Preparing For An Emergency
Responding With Resources
Recovering And Returning To Normal
You have the opportunity to volunteer in preparation for and response to a disaster in your community. You can play a vital role in your community's disaster response cycle.
Volunteer
- Be part of a team that brings assistance to those in times of disaster.
Call
Nancy Greenland at 412-672-9727
or
Jason Russell at 412-673-2294
White Oak Borough Recycling
Wood chips are available to all Borough residents free of charge and can be picked up at the Heritage Hill Park. The ODB Leaf Collection System and the Woodsman Brush Chipper were purchased through a grant from the Pennsylvania Department of Environmental Protection. Yard waste recycling is a sensible solid waste management alternative for Pennsylvania municipalities and both programs have helped to reduce the amount of yard waste going into our landfills and at the same time produced beneficial mulch, which can be used for ornamental landscaping or garden pathways.
Detailed Information:

2017 White Oak Borough Recycling Calendar.
(*Portable Document Format - PDF File)
Paper Recycling Program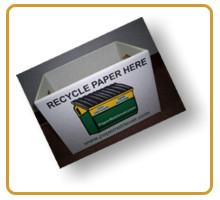 Paper Recycling Boxes Available.
In keeping with White Oak Borough's commitment to recycling, we now have paper recycling boxes available for purchase. the boxes can be purchased at the White Oak Borough Building for $3.00. The boxes measure 12" x 16" and are the perfect size for collecting newspapers. They also have handles, which make them very easy to carry and empty.