BOROUGH OFFICE HOURS
MONDAY - FRIDAY
8:30 a.m. - 4:30 p.m.
OFFICIAL NOTICE
BOROUGH OF WHITE OAK
ALLEGHENY COUNTY, PA
MEETING SCHEDULE
Notice is hereby given of the various Council Workshops/Caucuses, Executive sessions will be held the second Monday and the third Monday of each month. All meetings will be held at the White Oak Borough Municipal Building, 2280 Lincoln Way, White Oak, PA 15131
White Oak Borough Council
Council Workshops/Caucuses, Executive sessions will be held the second Monday and the third Monday of each month. The Regular Meeting will be held the third Monday of each month at 8:00 p.m. All Workshops/Caucuses and Regular Meetings are open to the public. Council may take official action at any meeting which is opened to the public. Executive Sessions are closed to the public.
White Oak Recreation Board
The Recreation Board meeting will be held the second Thursday of each month at 7:00 p.m.
White Oak Borough Planning Commission*
The Planning Commission meeting will be held the first Thursday of each month at 8:00 p.m. This meeting is opened to the public. (If necessary)
White Oak Borough Zoning Hearing Board*
The Zoning Hearing Board meeting will be held the fourth Thursday of each month. Workshops/Caucuses, which are closed to the public, will be held at 7:00 p.m., with the public meeting being held at 7:30 pm. (If necessary)
*Contact the Code Department at 412 672-9727 Ext. 231 to see if there are any items on the agenda for the Planning Commission and Zoning Hearing Board, as meetings will only be held if there are items on the agenda.



White Oak Borough Council Meeting April 19th, 2021
To view video of previous council meetings click here.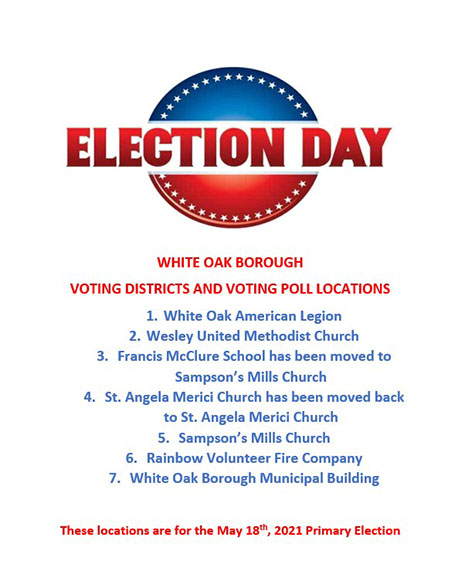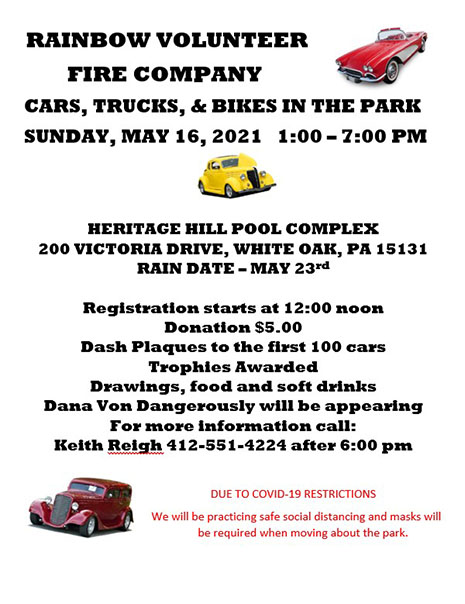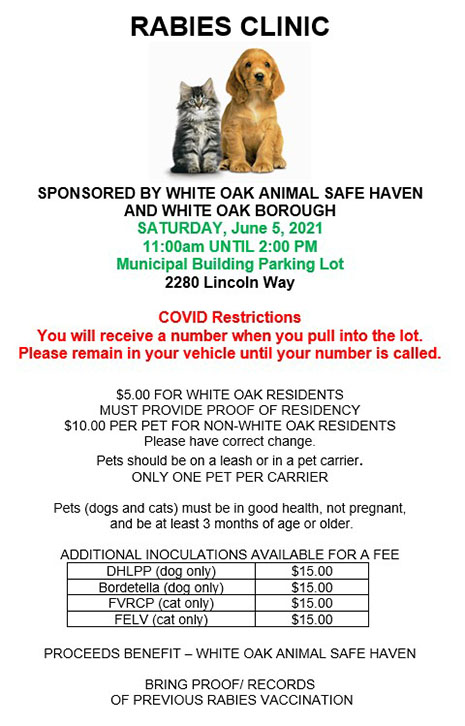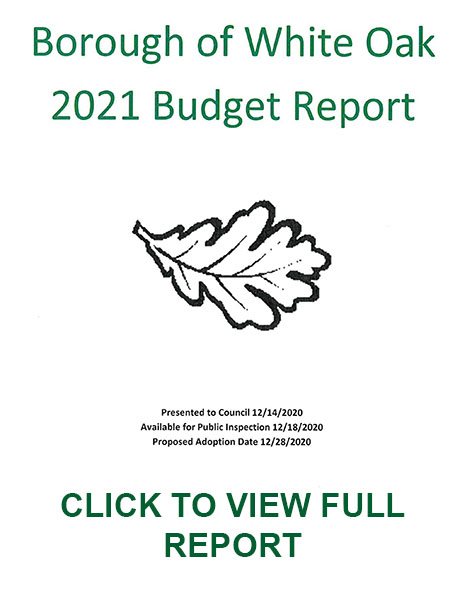 Fall 2020 Open Burning and other concerns
Hello,
Yes it is that time of year again that we see more open burning complaints start coming in. I wanted to remind everyone that if you need any Open Burning information to hand out please let me know and I will get as much to you as you would like. You can also go to our website to print it out yourself or get the digital file to post on your websites. https://alleghenycounty.us/Health-Department/Programs/Air-Quality/Open-Burning/Open-Burning-in-Allegheny-County.aspx Scroll to the bottom of the page and click on Open Burning Resources.
We also have a brand new interactive complaint system through GovQA. It allows the residents to enter complaints and they can upload pictures, videos, and weblinks. Once they sign up and enter a complaint they can then review the progress of the complaint and email directly with us. If you could post this on your website and encourage the residents to contact us with their Air Quality Complaints, we can all work together to help your communities. http://bit.ly/ACHD-AQComplaint
If you could please share this information within your borough or municipality and make sure that all managers, secretaries, police departments, fire departments, zoning and code enforcement officers know we are here to help!
Let me know if you have any questions or need any information.

Karen M Sagel
Senior Secretary Permitting and Enforcement
Air Quality Program
301 39th Street, Building #7
Pittsburgh, PA 15201
412.578.8115
karen.sagel@alleghenycounty.us
POLICE/PATROL OFFICER
WHITE OAK BOROUGH

Qualified persons with current Act 120 Certification are invited to apply to the White Oak Borough Civil Service Commission to take competitive examinations leading to eligibility for appointment as Patrol Officer in the White Oak Borough Police Department. An application form and details may be obtained at the Municipal Building, 2280 Lincoln Way, White Oak, PA between the hours of 9:00am-4:00pm, Tuesday, Wednesday and Thursdays.
Requirements: U.S. Citizen, high school graduate or equivalent education acceptable to the Civil Service Commission, 21 years of age, able to pass a physical agility test, and possess a valid Pennsylvania Driver's License prior to testing. Must pass physical (includes pre-employment drug testing), psychological and background (includes consumer credit report) examinations upon being tendered a position, prior to appointment. Must move to within 15 miles of the Borough Building within a reasonable time after appointment.
Benefits: Annual starting salary of $60,000.00 (approx.), retirement plan, medical insurance and fringe benefits.
Completed applications must be filed at the Municipal Building along with a non-refundable filing fee of $35.00 (checks only, made payable to: White Oak Borough) by 4:00pm EST on Thursday, October 15, 2020. EOE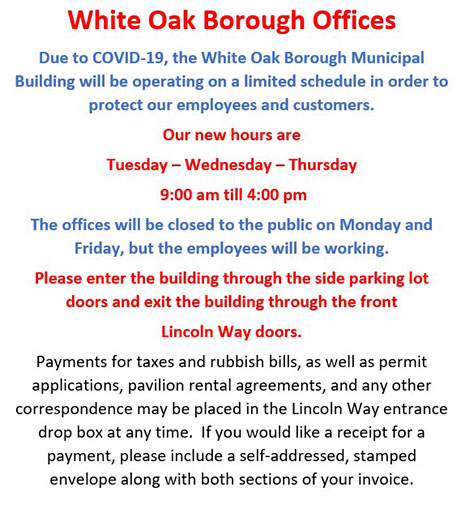 SPOTTED LANTERNFLY
Checklist for Residents
Help keep spotted lanternfly from spreading. Before you travel or move any items stored outdoors within or out of the quarantine area, check for and remove all stages of spotted lanternfly.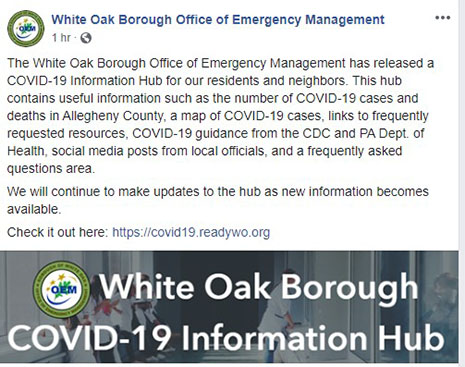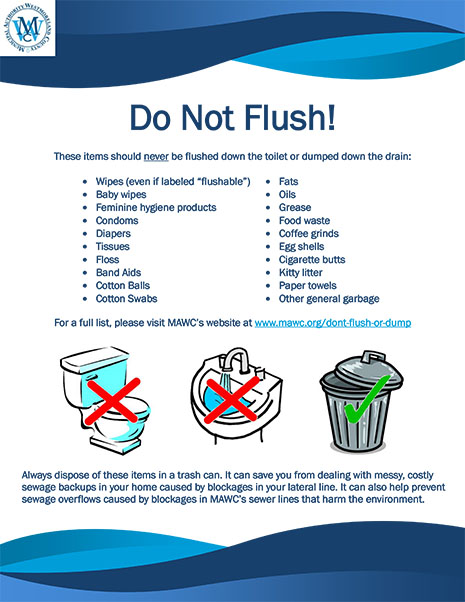 Borough Council and Mayor requested that our Engineer, Senate Engineering Company, complete an independent assessment of our streets and storm sewers in order to guide our planning process in preparation for future paving and storm sewer construction projects. Attached is a "link" that would allow you to review the assessment report. This tool assists Borough Officials with the necessary data to plan for our future road improvements within our community. This report is a tentative listing and may be modified at any time during the planning process.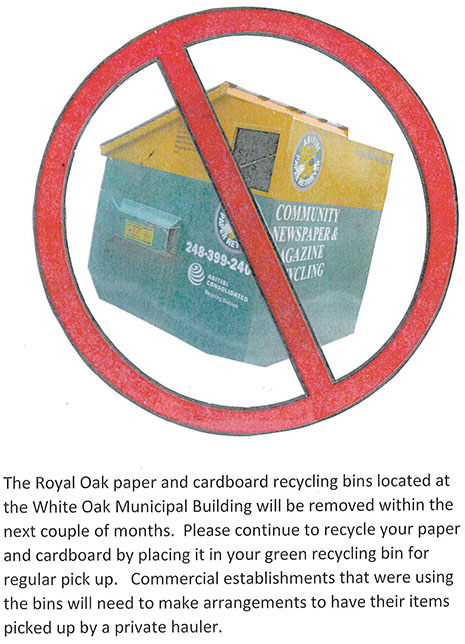 WINTER WEATHER NOTICE
The Public Works Department and Code Enforcement Officer would like to remind everyone that due to the upcoming weather forecast, all parked cars must be removed from the streets to enable the crew to plow a path as wide as possible. Where cars must be parked on the street, keep them as tight to the edge as possible. Do not park directly across from another vehicle. Where possible, keep all on-street parking to the odd numbered side. Do not park in alleys during snow and ice events. Police may tow vehicles impeding traffic flow and snow removal. This is especially important on dead-end streets and cul-de-sacs. If you move your car after we plow your street, we will not return to plow again.
During heavy snowstorms, wait for your street to be plowed before shoveling your driveway apron if possible. When shoveling your driveway, the snow should be piled on the right hand side of the driveway when facing the street. If the snow is piled on the other side, the plow will drag it across the cleared driveway and you will have to re-shovel the driveway. The Public Works employees do not plow snow into anybody's driveway on purpose - they are just doing their jobs, keeping the entire roadway clean and safe. Whenever you are walking on the roadways or shoveling it is very important for your safety and for the safety of the crew to move off to the side of the road as far as possible when you see the plow trucks coming.
Also remember that residents and businesses are not permitted to shovel or plow snow into the street and fines may be levied if you do so. Ordinance 713.01. Shovel or plow the snow to the sides of your driveway or sidewalk or place it in your yard. Ordinance 907.03 requires the removal of snow and ice from sidewalks adjoining your property. This pertains to both residential and commercial properties within the Borough.
White Oak Borough Right-to-Know Information
White Oak Borough Open Records Officer
John Palyo
2280 Lincoln Way
White Oak, PA 15131
Phone: 412-672-9727 x 225
Fax: 412-672-0760
Email: jpalyo@woboro.com

Commonwealth of Pennsylvania
Office of Open Records
333 Market Street, 16th Floor
Harrisburg, PA 17101-2234
Phone: 717-346-9903
Fax: 717-425-5343
Email: openrecords@pa.gov

White Oak Borough
Right-to-Know Request Form

White Oask Borough
Open Records Policy



-